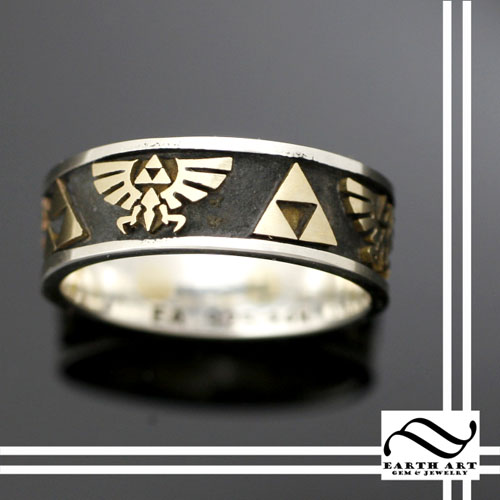 A well crafted ring made from deox sterling silver and 14k yellow gold. This was a custom request from a customer to create something with this color layout but using quality materials that would last.  We opted to oxidize the back ground to create more contrast between the gold and silver. there are 4 of each symbol around the ring equally spaced all the way around.  Each one was individually soldered in place for a permanent connection.

For those that don't know this ring is based on the Zelda video game series and features the Hyrule Crest and the Triforce symbol two re-occurring themes in most of the games.
Here is a review of the ring left for me from the csutomer once they recieved it:
Austin was perhaps the greatest businessperson I've ever had the pleasure of doing business with. I messaged him with a pretty vague idea and within a day or two he had an amazing complex digital rendering that blew my mind. He communicated very frequently was patient and kind gave personal advice and help and made the wedding ring of my dreams come to life. He was able to work with me to stay within my budget and we discussed ideas and such the entire way through as if we were friends and that's something you rarely see. As far as quality of the finished product Mr. Moore's products look so much better in person than you could imagine looking at this site. My ring is an excellent piece of art and I couldn't be happier. To top it all off shipping was super fast as I got the ring a whole 4 days earlier than it was expected for delivery. I highly recommend Austin to anyone who reads this and I'll definitely be bragging to everyone around now that I own this one of a kind piece. Thanks so much for your time and consideration and for just being a great guy to work with! Best of luck for the future and I'll be back!