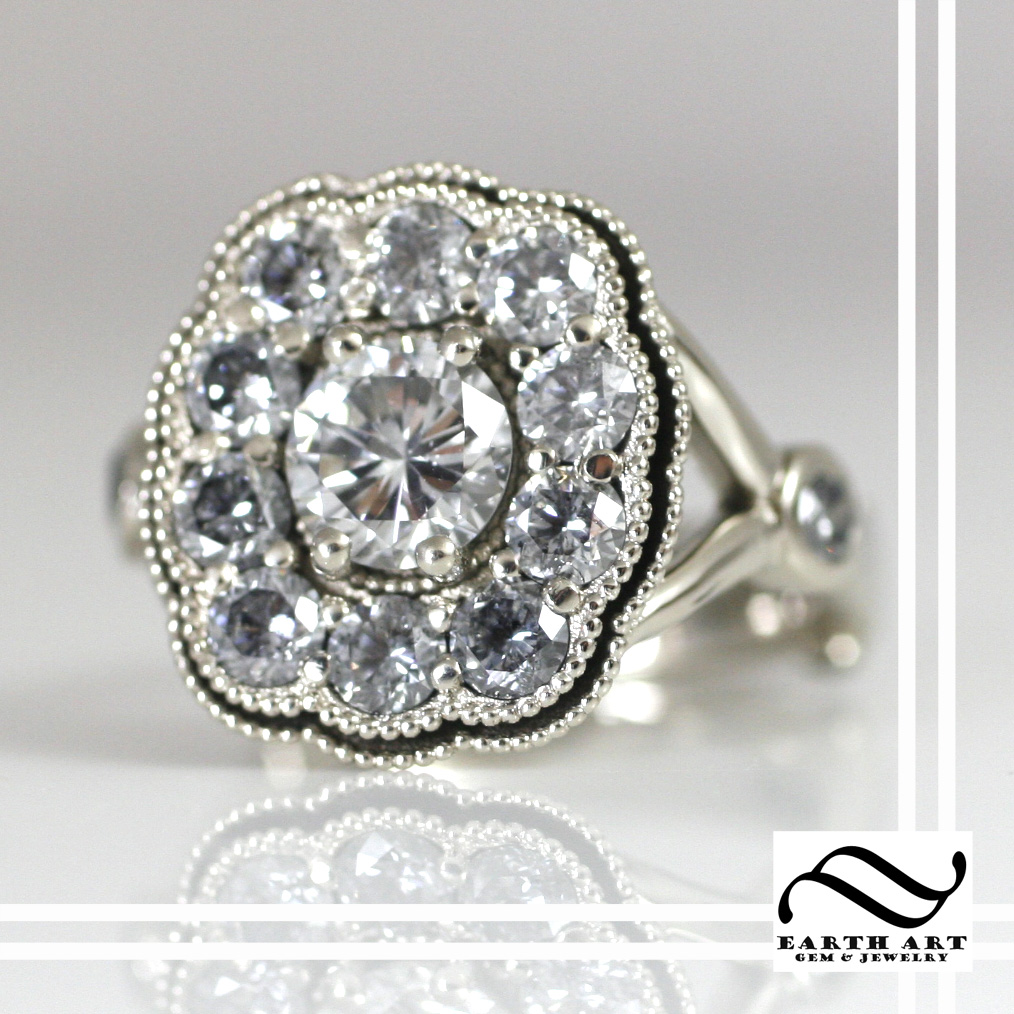 This type of project is one of my favorites: The stones were all supplied by my customer, minus a few smaller hidden diamonds at the base of the ring shank.  She sent me several rings from her family, and I removed the stones. We then designed this gorgeous vintage scalloped style ring, with her diamonds. Crafted in solid 14k white gold, this heirloom halo diamond engagement ring will be treasured for generations to come.  Here is the review from my customer:
"Getting engaged is a big deal! There are a million things to worry about but your ring shouldn't be one of them. Having worked with another ring maker in the past and having a less than positive experience, I was reluctant to even go down this road again. To boot, I was extremeley leary using someone out of state to create our rings. But, at the end of the day, a girl wants what she wants and sometimes you just dive in head first. So this started the journey of these gorgeous rings!
I had an idea in my head of what I wanted our rings to look like and a stick figure drawing. I also had the gold and diamonds from my Dad's wedding ring that were essential in creating my ring. My Dad was killed in a car accident several years ago and I absolutley wanted the gold and diamonds from my Dad's ring to be my wedding ring. So, that was it. I sent Austin my ideas and asked him what he thought. Austin took the time to listen to my likes and the style. He took all that information, designed and created a ring that is perfectly me. Very quickly he had ideas and REAL LIFE PICTURES of what the rings would look like. He worked tirelessly to make changes until they were absolutely perfect!
All the while he was working on an intricate engagement ring, he also made our wedding bands. I was very particular about the ring for my fiance. I had very specific needs this ring needed to be able to meet. Austin walked me through different finishes, textures and widths until we came to find the perfect ring for my sweet man.
Austin has been extremely professional, patient, kind and thoughtful throughout this entire process. He took an imagined dream and turned it into reality. My engagement ring is absolutely gorgeous. It's so much more than I could've ever dreamed.
In total, Austin created three rings for us and is now working on a wrap for the engagement ring. This process was absolutely painless and most rewarding. At one point I was worried I was going to drive Austin crazy with all my questions and changes but he never lost it with me! He is absolutely one of the most patient and professional men I have ever met. He will work with you, make a million changes and keep at it until you are 250% satisfied. I would absolutely recommend Austin for any custom work you're considering. Give him the opportunity to work for you and you won't be disappointed!"
K.